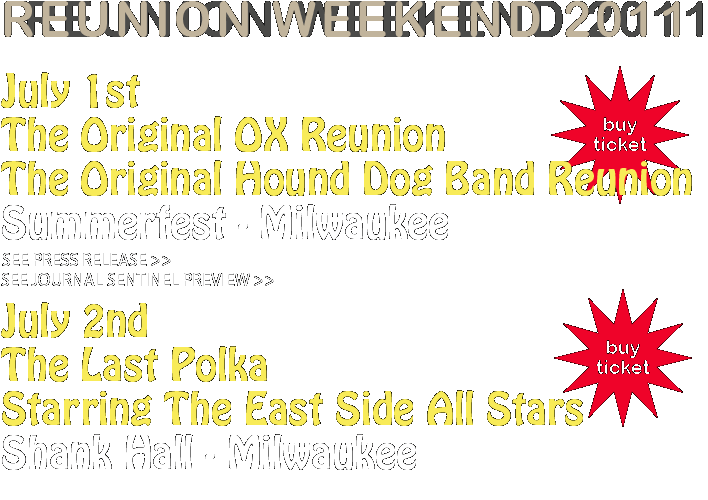 ---
R E U N I O N W E E K E N D 2 0 1 1
---
Friday, July 1st Summerfest / Potawatomi Bingo Casino Stage & Pavilion
6:00 PM - THE ORIGINAL HOUND DOG BAND REUNION
8:00 PM - THE ORIGINAL OX REUNION
THE ORIGINAL OX REUNION: Jon Paris, Bob Metzger, Brad Seip, Ed Sison
THE ORIGINAL HOUND DOG BAND REUNION: Sam Friedman, Mark Saichek, Ed Sison, Brad Seip, Randy Monaghan, Fred Bliffert, Tony Brown, Bob Knetzger
click image to enlarge
---
| | |
| --- | --- |
| | |
| | |
| | |
| | |
| click image to enlarge | |
Saturday, July 2nd Shank Hall / 1434 N. Farwell Ave, Milwaukee WI 53202, 414-276-7288
8:00 PM - THE LAST POLKA starring THE EAST SIDE ALL STARS

Hosted by The Legendary Fritz Bluebottom

Starring The East Side All Stars - featuring The Return of Dynamite Duck with Jon Paris and James Solberg, Mark Lillis and Jeff Hilgert plus very special guests Jim Liban and Junior Brantley. PLUS Jerry Harrison, Bob Metzger, Fred Bliffert, Ed Sison, Brad Seip, Sam Friedman, Mark Saichek, Tony Brown, Randy Monaghan and Bob Knetzger

Just Added - Jerry Harrison (Talking Heads, The Modern Lovers)

The Last Polka is truly a once in a lifetime opportunity to see some of Milwaukee's most influential musicians of the late '60s / early '70s reuniting for the first time in 40 years! Dynamite Duck anchors the show led by Jon Paris who went on to New York and around the globe with the likes of Johnny Winter and Bo Diddley. While fronting his own Jon Paris Band he also took every opportunity to jam with Milwaukee Legend Les Paul who was a friend and mentor until his recent passing. Soulful blues guitarist James Solberg went on to work as Luther Allison's right hand man and to James' own bands that toured nationally. Drummer Jeff Hilgert and bassist Mark Lillis, later a member of Truc, round out the band. Special guests with Dynamite Duck this one night only are Jim Liban and Junior Brantley, the dual frontmen of legendary Milwaukee blues rock band, Short Stuff. Jerry Harrison (Talking Heads, The Modern Lovers and producer extraordinaire) heads up his own set, touching on various highlights of his career. Also on hand will be Milwaukee Soul singer (the yodeling lumber baron himself) Fred Bliffert (Freddie & The Freeloaders, The Blifftones and more) as well as Bob Metzger who has gone on to international touring with Leonard Cohen, drummers Ed Sison (Booze Brothers) and Brad Seip (Chopper), guitarists Sam Friedman and Randy Monaghan, bassist Mark Saichek (Veronique Sanson), keyboard player Tommie Milwaukee (New Legion Rock Spectacular, Booze Brothers) & steel guitar whiz, Bob Knetzger. Most of the above and more participated in occasional spectacles produced and headlined by Fritz Bluebottom and His Electric Shit Band. Fritz (Kim Jorgenson) has gone on to an extremely successful career as theatre chain owner and producer and / or executive producer of films such as Out Of Africa which won 7 Oscars. Fritz returns to Milwaukee this one night only to add his colorful persona as emcee for the evening's rare gathering of Milwaukee's finest. Expect some surprises.